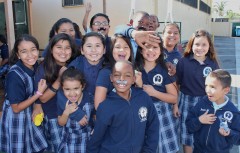 St. Aloysius School offers multiple student clubs at little to no additional cost to your child. Listed below are the various clubs that have been available in previous years.  After school clubs vary each school year, depending on availability. Please contact the office for more information regarding these clubs.
Church Choir
Students in all grades learn, practice and perform songs at masses and school functions.
Cooking Club
Students in Grades 4 through 8 learn about kitchen safety, measuring, pouring, mixing and cutting and prepare a variety of tasty dishes.
Dance Club
Students in all grades learn to appreciate, understand and perform to different choreography of songs and rhythms during school and church events.
Gardening Club
Students in all grades learn how to cultivate a garden, study the importance of taking care of the environment and develop a love for gardening.
Nutrition Club
Students learn about the importance of making healthy food choices and preparing healthy foods and snacks such as fruits, vegetables, salads, and smoothies.
Science Club
Students of all grades engage and participate in hands-on science experiments that allow them to explore and learn about the natural world.
Student Council
Students in Grades 5 through 8 organize a variety of exciting school events and fundraisers. Students hold official positions, such as President, Vice-President, and Secretary. 
Student Ambassadors 
Students in Grades 5 through 8 welcome visitors to our school, provide tours, represent the school at school functions and community events and work together with student council on planning and execution of activities.