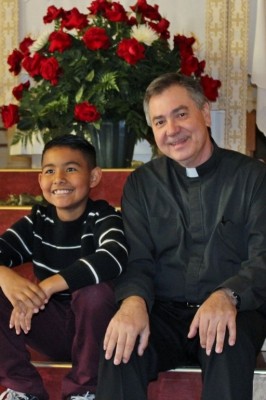 We are small school, but we have a lot to offer! We view each child in our community as a gifted and valuable child of God. The skills and dedication of our staff, teachers and parents make our school a wonderful place for our children to learn and practice our Catholic faith, in addition to acquiring all of the necessary academic and social tools to equip them for a productive life in our world.
We accept the challenge to educate your child to be a morally responsible individual with values and attitudes imbued with the Gospel tradition. St. Aloysius School provides your child a safe and positive learning environment which is conducive to fulfilling their educational needs.
I hope that you will find this website helpful. If I can personally be of assistance to you, please feel free to contact me.
Sincerely in Christ,
Father Pedro Esteban
---
Parish History
Bishop Thomas Conaty established St. Aloysius Parish in November 1908. Father P.J. McGrath celebrated Masses in a bungalow on Crockett Boulevard and the church was built shortly thereafter; and then remodeled in 1922. The second building, which was to be used as a school, opened in 1921 staffed by The Sisters of Mercy who taught there for over fifty years. During the pastorate of father William O'Regan, a nine-classroom school and auditorium (used as a temporary church) were built. In 1951 the parish center was completed, combining the church, school, and meeting facilities. St Aloysius was called an "island" parish; surrounded on three sides by Los Angeles and Huntington Park on the forth side.
Currently St. Aloysius parish has over 1,473 active parishioners and over 7,000 individuals attend Sunday services. With the generous donations of our parishioners we recently remodeled the church; redesigning the altar area, installing new flooring, and adding a bell tower.  In the Summer of 2011 the Archdiocese repaved our parking lot, paid for roof repairs, and donated new basketball poles and hoops to the school. A generous foundation grant also paid for a complete renovation of the school interior.
There are over 400 students in our Religious Education Class.
As you can see, St. Aloysius is a growing community of faith.