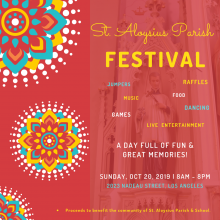 St. Aloysius Parish would like to invite everyone to this year's Annual Festival this Sunday, October 20, 2019 from 8am to 8pm. The festival is one of our parish's biggest fundraisers of the year and proceeds benefit the parish and school.
There will be lots of vendor booths, food, jumpers, games, and live entertainment for the entire family to enjoy.
Raffle tickets and passes are available in the School and Parish Office or by calling (323) 585-4485.
We hope to see you there!