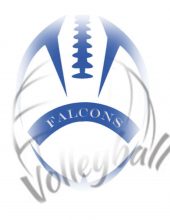 We are excited to be back and ready to get our Flag Football and Volleyball season started! We are looking for 4th-8th graders interested in participating in our Sports Program who want to learn a sport, make friends, and have fun!
This is the opportunity you've been waiting for. The only requirement is a positive attitude and desire to learn! Complete the following 3 forms and submit along with the participation fee to Coach Jen by no later than Friday, September 14th:
Practice will take place Tuesday, Wednesday, & Thursday for Flag Football
Practive will take place Tuesday & Thursday for Volleyball
Participation Fee: $40 per sport, per student
Please see Football and Volleyball info flyers or see Coach Jen for questions.
Always Falcon Proud, Always Falcon Strong!