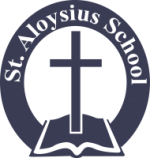 Representatives from local Catholic high schools will visit our community on October 10, 2017 from 6-7:30pm. During their visit, reps will discuss academic programs, extracurricular activities, sports, campus life, financial aid, and admission procedures.
We will open the gate on Crockett Blvd at 5:30pm for your convenience, please plan ahead for traffic and construction nearby. Parking will be made available on the school grounds and the event will begin promptly at 6pm in the church for a quick welcome/orientation. At 6:10 parents will be dismissed to visit (3) high schools of their choice for 25 minutes each, ending at 7:30pm.
(2) high schools will be set up on the first level and (4) will be set up on the 2nd floor. The classes will be clearly labeled to make it easier on all. 2 visitor bathrooms will be unlocked, one on the first level and one on the 2nd.
The following schools will be in attendance:
Cathedral High School
Bishop Mora – Salesian High School
St. Mary's Academy
St. Pius X – St. Matthias Academy
St. Paul High School
Verbum Dei High School
Looking forward to having a successful event!
For additional questions, email Mr. Diaz or call (323)277-7825.